[easyazon-link asin="B001SJR5EQ"]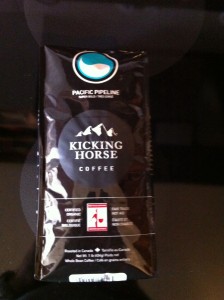 [/easyazon-link]I recently picked up a pound of the [easyazon-link asin="B001SJR5EQ"]Kicking Horse[/easyazon-link] Pacific Pipeline. It's marketed as a light roast but with a heavy body. This seemed like a kind of odd combination so I was intrigued enough to pick up a pound.
The aroma from this blend is slightly sweet, although the taste is very smooth without any sweetness coming through. As promised the body is heavier than you  would expect from a lighter roast. It reminded me a lot of the 454 Horse Power roast, the beans used may be similar as I believe they both come from Indonesia.
I'd put this as among my favourites of the Kicking Horse, ranking it slightly behind the [easyazon-link asin="B0027Z8VES"]Kick Ass[/easyazon-link] variety. This is a nice blend if you're looking for a lighter cup than the Kick Ass blend.
Review Type: Coffee – Roasted Whole Beans
Recommendation: Good for a light cup, Recommended
Here's a link to some great other Kicking Horse Blends I've tasted that are available to buy online:
[easyazon-block asin="B0027Z8VES" align="none"] [easyazon-block asin="B0027Z5J6G" align="none"][easyazon-block asin="B001SJR4XS" align="none"][easyazon-block asin="B001SJR56Y" align="none"]