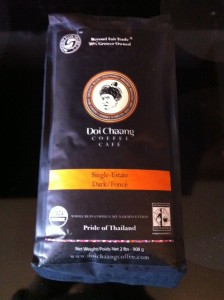 I recently saw a short documentary on television about this unique coffee maker based in Vancouver, Canada. They have partnered with the small Thailand hill tribe in "Doi Chaang" to help both improve their village and essential services by helping to cultivate their local renewable resource of growing coffee beans.
This of course stuck a cord with me, so I couldn't help but check out their website.  They sell direct to consumers which is always something I look for to get the optimal freshness. Also, they're partnered with Canterbury Coffee Roasters which do some of the best roasting around.
The shipping was extremely fast through FedEx, I had four pounds on my doorstep within 48 hours of ordering from their site.
Initial Reactions
The beans are well formed, but a little smaller than you might be used to . They are 100% arabica and the smell indicated they were very freshly roasted. The smell after grinding and brewing was very pleasant, I wish they put this in an air freshener for coffee lovers.
The taste of the coffee was superb, acidity was perfect and aroma as mentioned was excellent. This is a coffee even a cream and sugar addict could enjoy purely without those unneeded additives.
I was pleased to find they also are now producing a wild civet coffee which I'm planning to review next and am very much looking forward to.
Review Type: Whole Bean Coffee
Recommendation: Highly Recommended